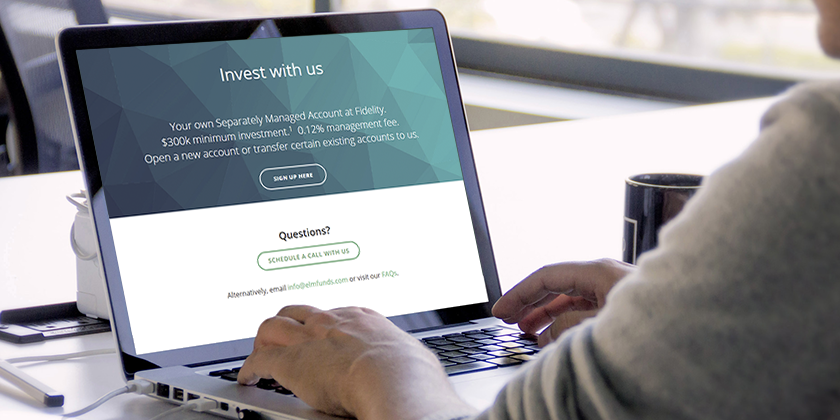 This week we launched our online signup for investment into our Separately Managed Accounts. You can now invest with us here. The full press release is below.
---
Elm Partners today announced the launch of its online Robo portfolio based on their Active Index Investing® strategy.
Elm, founded by Victor Haghani in 2011, aims to change the way people think about investing and provides a long-only, globally diversified, tax and cost-efficient portfolio solution. Elm offers a systematic dynamic asset allocation approach, as well as some of the lowest management fees in the industry at 0.12% per annum. Accounts are available online via elmfunds.com/invest and are held in Separately Managed Accounts.
"We're able to maintain such low fees due to the inherent scalability of our technology and investment strategy." says CEO Victor Haghani, "We use simple metrics such as value and momentum to move beyond the limitations of pure market cap weighting, adding elements of active management to our approach."
With $400 million of firm assets under management this positions Elm as one of the largest independents in the Robo space, coming in behind Wealthfront and Betterment. However, Elm seeks to address an area of the market that Robos have not particularly focussed on: High Net Worth individuals.
Portfolio Manager, Samantha McBride says, "Many high net worth individuals feel uncomfortable with a static investment policy, and prefer their portfolios to have the ability to respond to changing market conditions, which is the foundation of our Active Index Investing® approach."
Key Facts:
Elm Partners was founded in 2011 by Victor Haghani, previously of the Bond Arbitrage group of Salomon Brothers and a founding partner of LTCM.
Accounts are available from a minimum investment of $300,000 with an annual management fee of 12 basis points (0.12%).
The service launches on December 1st at elmfunds.staging.wpengine.com/invest and is available for US taxable investors.